I posted last year on Madeleine McCann's 9th birthday its so sad to be posting again, I feel I cannot utter the words Happy Birthday, instead I will offer my prayers,thoughts,tears and a birthday wish that she will be reunited with her Mum,dad and family!
2013 today is Madeleine McCanns 10th birthday, it should be a day of laughter,celebration, family and friends. Instead its a day when all those feelings of loss will be most keen, the unanswered questions,the prayers that she is alive,more importantly happy and safe.
So to try and mark this day, bloggers are again

raising awareness that Madeleine McCann is still missing and to spread the word worldwide in order to help find her and bring her home.
Madeleline went missing on holiday in Praia da Luz, Portugal on Thursday 3rd May 2007, I cannot quite believe its six years.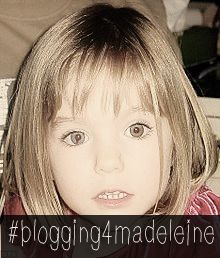 Contact information to report any sightings or information
Your

local police force

immediately,

AND
+44 845 838 4699 or investigation@findmadeleine.com
OR Crimestoppers

in confidence

on 0800 555111 or
The recent case of the three girls kidnapped in Cleveland,Ohio and being free after 10 years gives hope to parents of missing children and families around the UK and sadly there are many missing people, including children like Ben Needham, in fact a
staggering 140,000 children go missing in the UK every year. There is something I can do to help though, and you can too,its a small moment of your time, just a tweet!
You will be in the company of millions,businesses,celebrities and people all over the UK will be taking part in the Big Tweet!
On International Missing Children's Day (Saturday 25 May) Missing People Patron Stephen Fry will once again join the charity Missing People in harnessing the power of Twitter to help find missing children via The Big Tweet for Missing Children. You can take part too, by retweeting the appeals for missing children that the charity will tweet every 30 minutes.
On this day, the charity will also be holding its flagship annual run Miles for Missing People on Clapham Common. So, please visit www.missingpeople.org.uk/miles2013 to enter, or simply come along to the beautiful Clapham