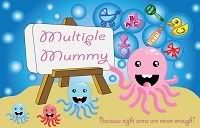 I am honoured to know Kerry AKA Multiple Mummy. We met via the virtual world of blogging and Twitter she invited me to join a twin link up. We laughed and joked a few times, she is an incredibly giving human. A great Mum to her three children and obviously adored by her husband.
My initial thoughts of Kerry is a woman full of life, love and passion.
This has been cruelly was put on hold by a brain aneurysm and her family and indeed Kerry have been fighting their way back for the last few months.
You may have noticed the little blog badge in the right hand column. 'Healing Thoughts for Multiple Mummy' you may have clicked through and read how her husband is determined to keep her blog going, just for her and as a link to her life before this terrible tragedy.
I am joining in a blog hop if you wish to add your post for Kerry you will find it
here
and a time of silence tonight at 10pm as Kerry has suffered further setbacks Multiple Daddy as asked for our prayers and if praying is not something you do, he asked that we eat chocolate as Kerry would approve.
So Kerry a big bar of Galaxy awaits a candle lit and as I have done constantly since I first found out, will be pausing to pray for you and join in with other Mums, dads and fellow Twitter folk to send you healing thoughts. Follow hashtag
#
healingforkerry
Kerry I pray you are restored to full health, that the love that goes out tonight, the love that comes from fellow bloggers, friends and family, lifts you, guides you back to your babies and husband.
http://www.multiplemummy.com/